About us
We are a small family owned antiques company that primarily displays our merchandise at antique shows. We are expanding to make our special items available on this web site.
Through this site we are able to offer a greater selection of fine quality merchandise than we are able to bring and display at shows. This service is intended to present a fuller range items available in order to give more choices to interior designers, decorators, collectors and people who are building or renovating their homes. We hope that you find this to be a dependable source of fine quality antique decorative items at affordable prices when you are looking for that "special" piece.
This site allows us to have a greater selection of merchandise on continuous display rather than hit or miss encounters with a portion of our or other dealers inventory at shows.
Satisfied customers are the key to the future sucess of our business.
We specialize in:
European enamelware

American Pottery

Scandinavian Pottery

Scandinavian and Italian Glass

Costume Jewelry

Interesting Decorative Smalls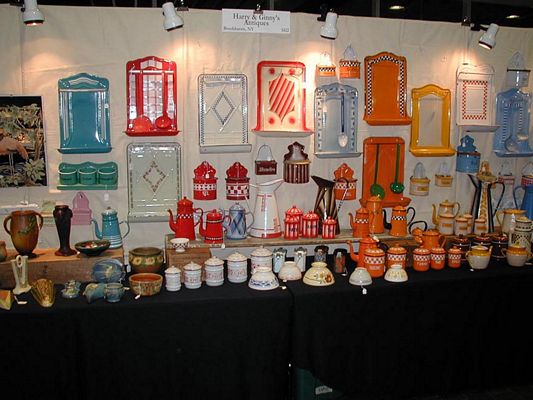 The next few pages show pictures of some of our recent displays and upcoming shows.
If you take a moment to browse through them, you can see the kinds of things that we carry. Just click on the links on the next three pages to see some of our displays.
You may even see something that you like that may not have been sold or listed on the site yet. If you see something you might be interested in , please e-mail hkny@optonline.net to inquire if it is still available.
If you click on the Preview Gallery link on this page or the index list on the right hand side of the home page, you can see thumbnail photos of some of our inventory listed by category.
If you then click on the Enamelware Catalogue link on the home page, you can see additional enlarged photos, description and price of individuals items in the various categories. All items in the Preview Gallery may not be yet listed in the catalogue or may not be still available. Please e-mail to inquire and we will get back to you as soon as we can. Thank you.
Harry and Ginny's Antique